Jazz singing summer course in Brussels
From the 8th to the 12th of July 2019 !
 Full !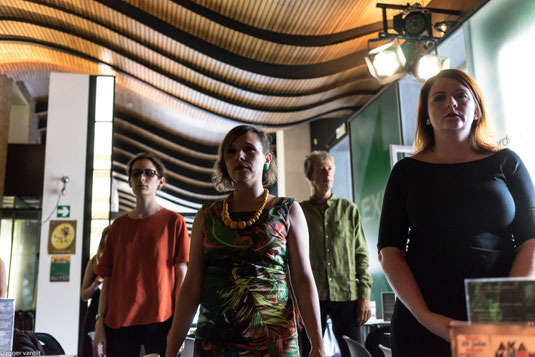 Intensive course, all levels welcome!
What's included:
1. Technical voice work: body, breathing and voice warm-ups.
2. Ear training & improvisation based on precise theorical instructions in relation to harmony, jazz scales and arpeggios.
3. Varied repertoire to be sung individually or in group: classic jazz songs from the Real Book, including those coming from the European contemporary repertoire, Brazilian themes and much more.
4. Individual coaching with a microphone on the Jazz Station stage under the watchful ears of the other participants!
Led by Geneviève Fraselle (voice) and Martial Host (piano).
Next course:
From the 8th to the 12th of July 2019 !
From 11.30 am to 5.30 pm.
Includes a 1-hour lunch break for each session (meals not included)
25 hours of teaching in total throughout the entire course! The participants will receive a certificate of attendance.
Address:
Jazz Station, Chaussée de Louvain, 193A- 1210 Saint-Josse (Brussels)
Price: 350€ incl. VAT.
The course is limited to 15 participants. Registrations will be considered on a first paid first served basis.
How to sign up?
1. Fill in and send your electronic registration form.
2. Pay a deposit of 120€ (non-refundable) upon receiving confirmation of your registration form.
3. The registration is effective once the payment in full – 230€ – has been made into the following account no later than 30 days before the starting date of the course:
IBAN : BE40 0014 1522 6663
SWIFT: GEBABEBB
Check out this picture which illustrates the last warm-ups before going on stage for the end of the year concert of the 2018 Workshop!