Jazz singing summer course in Brussels
From the 6th to the 10th of July 2020 !

Intensive course, all levels welcome!
What's included :
1. Technical voice work: body, breathing and voice warm-ups.
2. Ear training & improvisation based on precise theorical instructions in relation to harmony, jazz scales and arpeggios.
3. Varied repertoire to be sung individually or in group: classic jazz songs from the Real Book, including those coming from the European contemporary repertoire, Brazilian themes and much more.
4. Individual coaching with a microphone on the Jazz Station stage under the watchful ears of the other participants!
Led by Geneviève Fraselle (voice) and Martial Host (piano).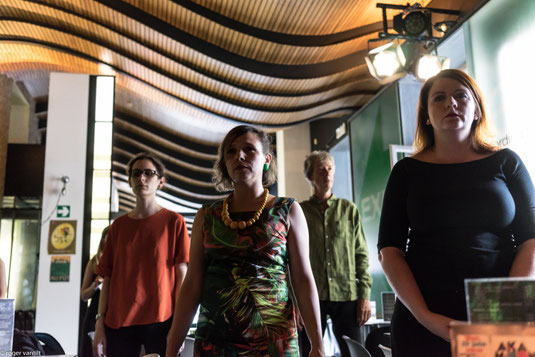 Next courses
From the 6th to the 10th of July 2020 !
From 11.30 am to 4.30 pm.
Includes a lunch break for each session (meals not included)
Address :
Jazz Station, Chaussée de Louvain, 193A- 1210 Saint-Josse (Brussels)
Price :
350€ incl. VAT.
The course is limited. Registrations will be considered on a first paid first served basis.
How to sign ?
1. Fill in and send your electronic registration form.
2. Pay a deposit of 120€ (non-refundable) upon receiving confirmation of your registration form.
3. The registration is effective once the payment in full – 230€ – has been made into the following account no later than 30 days before the starting date of the course.