Children's Jazz singing lessons              "Les Little Swing"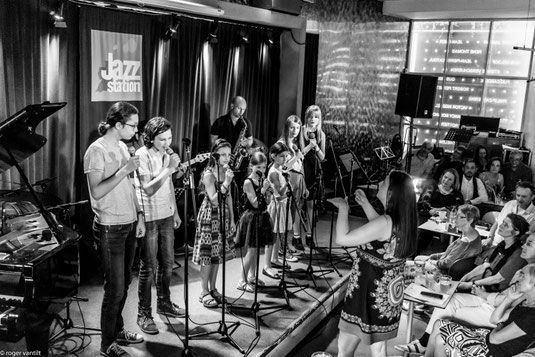 The "Little Swing Brussels" JAZZ Singing Workshop For Children is intended to children aged 8 to 14 motivated by a desire to sing !
Including :
1. Playful warm-ups, breathing and vocal games as well as energetic rhythm exercises to begin each session !

2. Group learning of song lyrics (jazzy songs in French and English or with foreign sounds, circle songs, etc.)

3. Rhythm exercises derived from jazz music: swing-feel, vocal percussions, improvisations, etc.)

4. Singing with a microphone along with live accompaniment of a grand piano.

Note:

special care will be given towards the specifics of the child's voice (with respect to the children's vocal cords, preservation of their instrument, prevention of many vocal impairments, etc.)

Workshop run by a Vocal Coach and a Pianist. No musical prerequisite needed.
Schedule: Saturday from 14h00 to 14h50
Fees: 175 € (VAT incl.) /Year.

First come, first served ! Registrations will be bases on the earliest payment notification received onto Genevoix Asbl's bank account. Limited seats available !
Schedule: Term starting on 5 October 2019

05/10, 19/10, 02/11, 16/11, 30/11, 14/12/2019
18/01, 01/02, 15/02, 07/03, 04/04, 25/04, 09/05, 23/05, 05/06/202 (Closing Concert 2020).
Intervention Jazz au Collège de Marciac (FR)
Address :
Jazzstation, Chaussée de Louvain, 193A- 1210 Saint-Josse (BXL)
IBAN account: BE40 0014 1522 6663
SWIFT:GEBABEBB
Informations :
E-mail: asbl.genevoix@yahoo.fr